Mlily Mattresses|Memory Foam|1-800Fastbed Mattress
Mattresses Delivered Nationwide Mattresses & Adjustable Beds
Memory Foam Mattresses Twin, Full, Queen,King

1-800Fastbed Mattress, Long Island, New York, natiowide delivery, twin mattresses, full mattresses, queen mattresses, king mattresses. We also ship adjustable beds, many comfort levels and styles to fit your budget.

SEMI-OPEN CELL STRUCTURE

Specially formulated to maintain the perfect balance between air flow and recovery time, our semi-open cell memory foam uses fewer chemicals than traditional foam. Fully open cell foam can sink too quickly, while closed cell foam traps heat and can make you feel "stuck." With our semi-open cell structure breathability and air flow are increased, without sacrificing slow recovery time, and supportive elasticity.

PLANT-BASED OILS

An alternative to petroleum chemicals, a castor seed and plant oil blend replaces up to 20% of the fossil-fuel-based oils in some of our polyurethane foams. Castor seeds are efficient to harvest, as they contain almost 50% oil and are healthier for the producer and consumer, emitting no volatile organic compounds.

BAMBOO CHARCOAL

Bamboo is one of the fastest growing and most prolific plants, growing as much as three and a half feet in a single day. Naturally organic, and not requiring the use of pesticides, bamboo is an excellent choice for many consumer applications, including the production of high-quality memory foam. By utilizing bamboo to create an active charcoal, MLILY infuses bamboo into visco-elastic memory foam. This charcoal is anti-microbial, and odor absorbing. And with thousands of tiny micro-pores, bamboo infused memory foam is cooler and more breathable than traditional memory foam.

BAMBOO FIBERS

Many of our covers contain up to 40% blended bamboo fibers, which are naturally durable and porous. This provides increased moisture wicking and greater air flow, for a cooler night's sleep.

ALOE VERA

Gentle for even the most sensitive skin, aloe vera is anti-bacterial and anti-fungal. These properties are well suited to the fabrics that our customers enjoy on MLILY mattresses and pillows. Every product receives an aloe vera mist increasing the luxurious softness of our premium fabrics.

Consumer Safety

At MLILY, consumer safety and satisfaction are paramount. You can feel confident that MLILY products have been tested to meet or exceed the most comprehensive safety and quality controls.

CERTI-PUR US

Certi-Pur Us is the standard for safety in the foam industry. Our manufacturer has submitted its foam products to the rigorous testing and is a qualified Certi-Pur foam supplier.

Certi-Pur certifies that our foam is:

Emissions tested
Content tested
Low emission (VOCs) for indoor air quality
Made without prohibited phthalates
Made without ozone depleters (no CFCs)
Made without mercury, lead or heavy metals
Made without formaldehyde
Made without methylene chloride
Made without PBDEs
Durability and performance tested

Harmony+gel

A pleasing combination, the perfect arrangement.

What does the melody of sleep sound like? It's the gentle rhythm of breath and the body's ease as its passes through each restorative cycle of sleep. Pairing our unique UltraCore rebound foam with the cool comfort of gel-infused memory foam, The Harmony by MLILY will help you to orchestrate the most satisfying sleep of your life. Featuring a durable and soft double jacquard and spandex knit cover with premium suede trim, the Harmony is undoubtedly pleasing to the eye, with a cost that will be music to your ears.

Calm

Composed, undisturbed, peaceful.

Allow your body and mind to truly unwind, to regain the composure and poise you need to face the challenges that lie ahead. Inspired by the desire in all of us to live above the fray, the Calm by MLILY provides a sleep experience that helps you to restore the balance in your life. Designed with our signature memory foam, featuring naturally renewable plant-based oils, and a touch of bamboo-infused memory foam for cooler sleep, the Calm is the ideal choice for those seeking a classic memory foam feel. An excellent value, and simply a beautiful bed, the Calm can give you the undisturbed slumber you are searching for. Because a peaceful day begins with a restful night.
Mattress in a Box Free Nationwide Delivery
Energize+Gel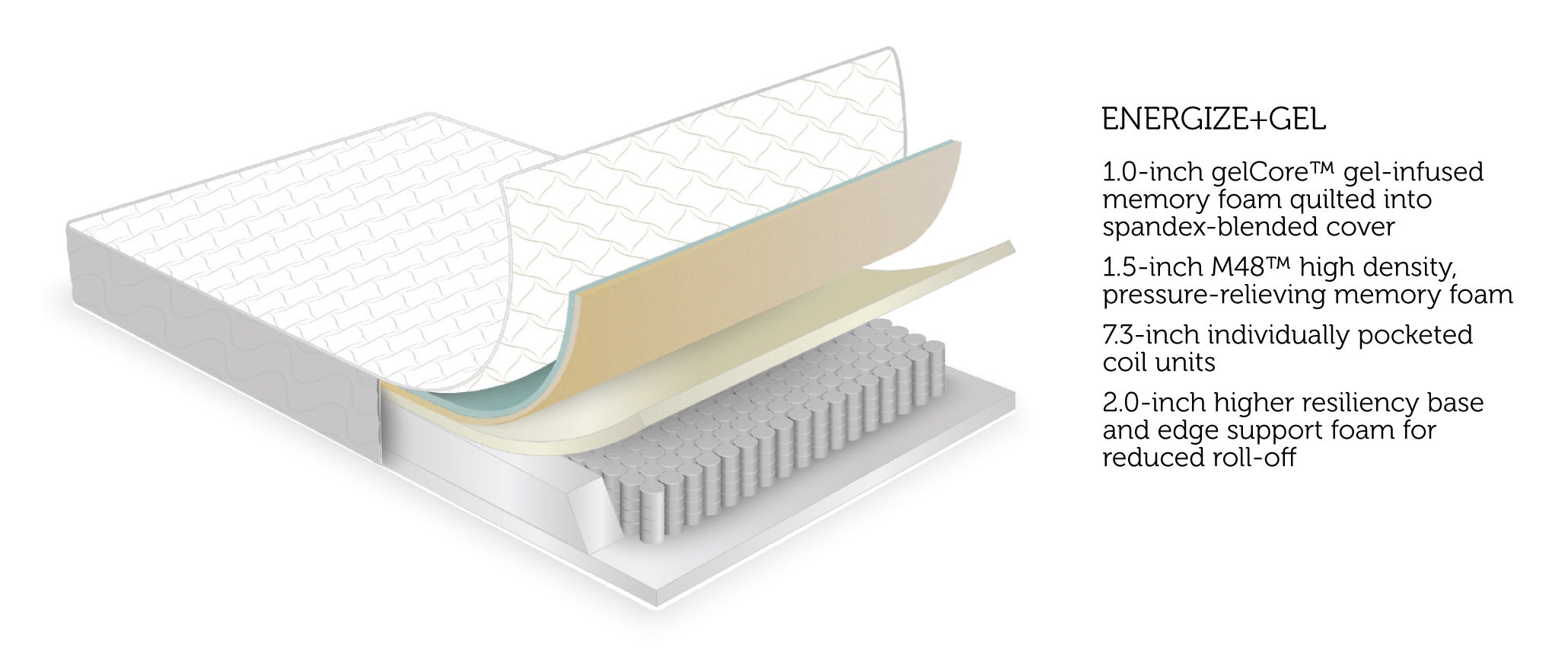 MLILY - Tranquility+Gel

MLILY - Serenity

MLILY - Dreamer


Ships in a Box